Winner Announcement: Play The Quizzes To Get FASTER, SAFER COINS
2020-11-09 06:32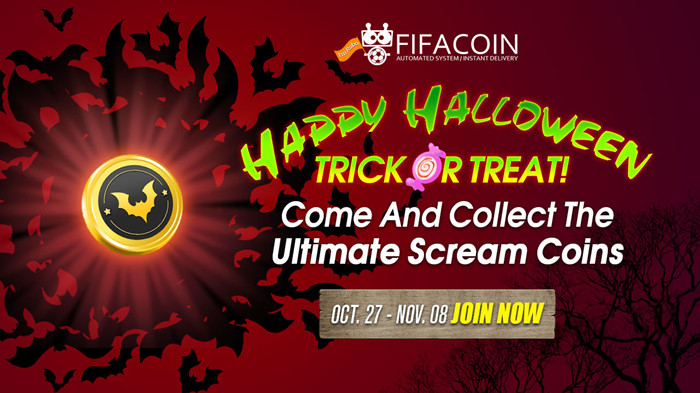 The Halloween giveaway is over! Check the question, most friends expected for the Rulebreakers. So did you get your favorite player? Let's have a look at FIFACOIN second surprise!
Q:Who are you most looking forward to in this year's FIFA 21 Scream Team this year?
A:
Harry Kane (28.3% choose)
Douglas Costa (15.9% choose)
Others
Congratulations! 6 winners have been randomly chosen by the third party Gleam. The higher the participation, the greater the chance of being selected! Check the prizes as follow now,
700K Coins x 1 winners
400K Coins x 2 winners
200K Coins x 3 winners
Please go 24/7 live-chat for customer service to claim corresponding prizes in 1 month! The step of using the voucher,
"FUT 21 Coins" - "Choose Corresponding Coins " - "BUY NOW" - "Voucher" - "Submit" - "CHECK OUT".
Follow FIFACOIN, more free coins will be in your pocket at any moment!



Alessio: With my latest order ID 3006XXX. I was very satisfied with my purchase, the delivery was fast, the website offers excellent services and it is very safe and reliable. I advise!

The customer has bought:

FC 24 Coins

2023/11/10




Caterino: Great service. The speed of delivery is within 30 minutes.

The customer has bought:

FC 24 Coins

202

3

/

11/10




Raul: I want to say that the coins have been transferred to the account so quickly and the price was also great!

The customer has bought:

FC 24 Coins

202

3

/

11/10




Combs: I didn't know that my transfer market was not open yet, so I couldn't send my details to them at the beginning, but they did not have any complaints and just waited for me until my market opened. So I'm very sorry for that and thank u all of u guys.

The customer has bought:

FC 24 Coins

202

3

/

11/10




Eric: I am very happy with the service! I received all 1m coins and players within an hour of placing my order. No issues, I will purchase again soon!

The customer has bought:

FC 24 Players

202

3

/

11/11




Najeeb: I can't believe this, how cheap players are amazing. And how fast it delivers, 5 stars for this and the company 10/10!

The customer has bought:

FC 24 Players

202

3

/

11/11




Zaman: Was a bit skeptical at first but it is 100% legit and reliable. Very satisfied and will definitely use FIFACOIN to purchase players again.

The customer has bought:

FC 24 Players

202

3

/

11/11




Gilbert: Have been using FIFACOIN for several years and have never had a problem. A few mistakes on my end every now and then their customer service is quick and fair.

The customer has bought:

FC 24 Players

202

3

/

11/11




Pendrey: Loved everything the support and safety! I will buy more coins or boosting.

The customer has bought:

FC 24 Boosting

202

3

/

11/12




Jesssidy: Very easy and simple after I try boosting! It obviously works and I'm excited.

The customer has bought:

FC 24 Boosting

202

3

/

11/12




Konteh: First time purchasing boosting, I am really happy with how fast and safe fifacoin.com was, will definitely use it again in the future.

The customer has bought:

FC 24 Boosting

202

3

/

11/12




Vinicius: If you are looking for a cheap boosting service then look no further, I have personally used this site for both coins and boosting and had no issues.

The customer has bought:

FC 24 Boosting

202

3

/

11/12