FUT 21 Coins Pre-Order Ranking Activity End! Let's See Who Get The Prize!
2020-09-23 06:32
Dear customers,
The activity of pre-order FUT 21 vouchers Ranking finally comes to the end. All the customers that bought vouchers might have enjoyed a huge discount when buying the new version 21 coins. And the Top 10 buyers are the most lucky guys that can enjoy extra prize.
Congratulations to all the TOP 10 buyers!
TOP 10 buyers and the prizes are showing below: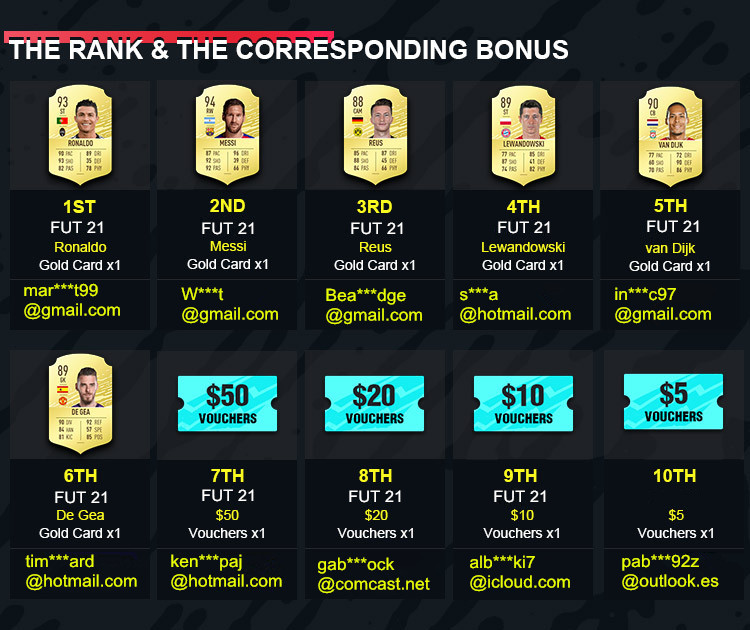 Please kindly contact our LiveChat to claim your prize better before 2020/10/15.
The one who had won vouchers can check it on your Member Center-my gift-my vouchers.
Please mind the validity day and use it before it gets expired.

Thanks for your attention, have a good day!
PS: More activities will come soon in the near future, see you there :)
FIFACOIN.COM TEAM



Glen: Great service. Reliable and fast.

The customer has bought:

FUT 23 Coins

2022/11/22




Jinoy: Excellent service, speedy and safe. Also, the customer service representatives are very helpful.

The customer has bought:

FUT 23 Coins

2022/11/

22




Peralta: Everything about this site is legit, highly recommend it if you're looking for a trustworthy site to get coins. Excellent customer service and fast delivery. 10/10

The customer has bought:

FUT 23 Coins

2022/

1

1

/

22




Humza: Order and withdrawal was completed quickly and smoothly. :)

The customer has bought:

FUT 23 Coins

2022/

1

1

/

22




Chilito: If I'm honest, I thought all of this was fake but I decided to try it out and it pulled through. I got the FIFA coins in just a few hours.

The customer has bought:

FUT 23 Coins

2022/

1

1

/

22




Sunelik: Bought coins from fifacoin for the first time, so far very good services, fast delivery, and 24/7 support. I will use this site to buy coins from now on.

The customer has bought:

FUT 23 Coins

2022/

1

1

/

22




Marcos: First time buying fut players here. Really happy with the service and agent support. I will buy more coins or players in the future.

The customer has bought:

FUT 23 Players

202

2/11/23




Alessandro: They are the best, really fast and the 24/7 chat, it's a good place to purchase the player.

The customer has bought:

FUT 23 Players

2022/11/

23




Callum: They are quick, efficient, and easy to use. Would highly recommend them to anyone who is looking to get the dream players.

The customer has bought:

FUT 23 Players

2022/11/

23




Ravey: Players were delivered quickly, within an hour and they answered my questions quickly through chat. The process was easy. Thank you!

The customer has bought:

FUT 23 Players

2022/11/

23




Blandon: Great customer service. Fast delivery upon order. Reliable and definitely not a scam. They are awesome!

The customer has bought:

FUT 23 Players

2022/11/

23




Saiful: I love how easy it is to buy players for my FIFA team. FIFACOIN has great prices and discount codes from many famous YouTubers to make the price of your purchase even cheaper.

The customer has bought:

FUT 23 Players

2022/11/

23